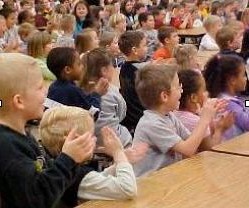 Richard Young the Magician, MEd, can perform an amazing magic show, which is just for fun or a great reward, or he can teach a workshop on magic and help the children learn some tricks. Most schools, however, ask Richard to help students learn in a magical way. Here are some of Richard's most popular presentations:
Early Literacy (Kindergarten)
Challenge Your Senses! (Grade One)
Magical Colours! (Grade One)
The ABC's of Character (Grades K-6)
The Magic of Reading (Grades K-9)

Beyond Bullying (K-9)
Education and entertainment, curriculum and conjuring are blended together into an unforgettable, professional presentation. These fast-paced, thirty to sixty-minute shows combine magical illusions, hilarious comedy, clean fun and TONS of audience participation!
Please accept our thanks and gratitude for putting on a magic show guaranteed to delight children of all ages. The students have been anticipating your visit for the past two weeks and you did not disappoint them. They were enthralled.
Thanks again, Richard, and please don't forget us next year. We'd dearly love to see you again.

Nick Roczkowsky, Principal
Assumption Elementary School, Calgary, AB