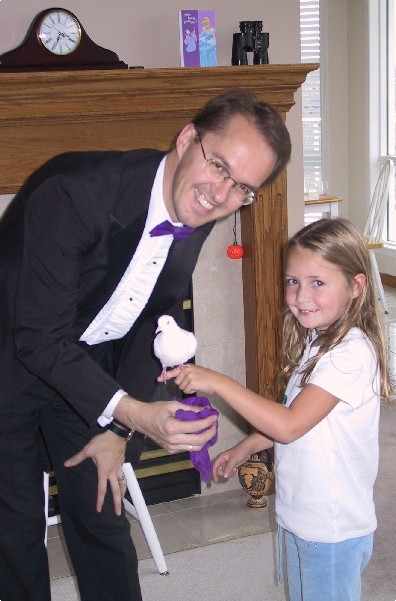 Richard Young the Magician will make your child's birthday party extra-special! Richard's fast-paced shows combine magical illusions, hilarious comedy, clean fun, and TONS of audience participation! Experience extraordinary entertainment as your group is fooled, in a fun way, with baffling, hey-do-that-again magic!
Parents have the option of a 30, 45, or 60 minute captivating show that their child will never forget. The shows feature age-appropriate magic tricks that involve some or all of the friends (depending on the length of the show). Then the birthday child comes up to the front to be the center of attention and to help with a special trick or two. This is a great opportunity for some memorable photographs! Then Archie the dove appears out of nowhere! The children love petting and holding him, as most have never seen such a soft, quiet, calm, and gentle bird so close before. Then Richard makes the birthday child a giant, colorful, balloon animal before making a small one for the rest of the guests. In Calgary, the 30 minute show is $199, the 45 minute show is $229, and the hour show is $259 (GST is included).
If that is more than you were thinking of spending, you might consider hiring Richard's daughter, Rosie Young the Magician! Available Saturdays, she performs a fun, interactive magic show that is thirty minutes long, includes balloon animals for up to ten children for $75. (Additional children are $1 each and fees apply for travel outside of Calgary. If you want a 40 minute show, the fee would be $100). She does not have a dove. (403-241-5902).
If you are interested in purchasing magic tricks for the birthday child or the guests' treat bags, check out Richard Young the Magician's online magic store for prices that are lower than retail!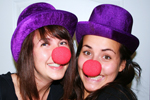 If you want a fun face painter before or after the magic show, your guests would love one of Richard's great artists. Most importantly, they would really enjoy her gentle, caring way with children. A ninety minute session is $130. For many parties, you only need an artist for one hour and the rate is $90. If you need two artists, the hourly rate is $200 (minimum of 2 hours).